Every organization, company, SME should have something to stand out from the competition. The best solution to stand out is to innovate.
The ever-increasing competition and market dynamics force entrepreneurs to innovate in every form, which is why innovation is the key to maintaining a sustainable leadership position in the market.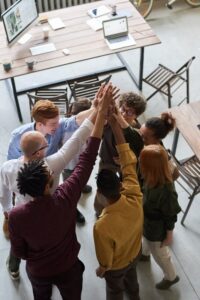 What are the advantages of introducing innovative actions?
– Reducing production costs
– Increased efficiency and work organization
– Improving safety as well as working conditions
– Increased product quality
– Increasing competitiveness of products
– Increase productivity, quality of work
– Productivity increase
– Increase the overall efficiency of operations
These are just some of the advantages of bringing innovation to businesses. Therefore, the WINN project focus on the development of a specific capacitation program that will prepare SMEs executives to behave innovatively and spread innovation culture across their organizations. It specifically aims at providing high-quality learning opportunities for SME executives lacking knowledge, skills, but especially, taking into account the specific target group, the required mindset, and behavioral preparation to face challenges of building an innovative organization.
Methodologies to be developed under the project WINN will focus on diagnosing user's week areas and individual barriers in the scope of their innovation capacity and underline specific aspects requiring improvements. (IO1), provide users daily workouts adopted to personalized needs for behavioral and cognitive change regarding individual mindset, behaviors, and biases to maximize pro innovative behaviors and beliefs. (IO3).
A valuable tool will also be IO3 – WINN Workouts Toolkit (IO3) for supporting practice-based learning will include a pool of exercises, cases, motivational stories, and short readings to support the implementation of the workouts, iconographic, videos, etc. for increasing interactivity and impact of the program, as well as WINN Mobile App (IO4) – a tool for integrated delivery of WINN Program to final users. The APP will provide direct access to interactive learning processes responding to SMEs ' needs and will ensure easy delivery to any participant across the EU.
The last result will be a WINN lesson learned report (IO5) that will gather partners' and stakeholders' experience and knowledge, results of the WINN piloting phase, and lessons learned to produce a comprehensive guide on how to effectively support building innovation mindset and behavioral change to foster inclusive innovation culture in SMEs.
Follow our project on social media and stay up to date: https://www.facebook.com/WINNEUProject/